Moving money from one location to another can be a risky undertaking, but with armored cash-in-transit vehicles from The Armored Group (TAG), transporting money can be safer and more secure. Many businesses, government agencies, and financial institutions worldwide rely on high-quality, armored cash-in-transit vehicles. Whether you need to armor a few vehicles or an entire fleet, the unique armoring systems from The Armored Group are recognized for their certified dependability and resilience. You don't want to take chances with your valuable goods. Armored vehicles from The Armored Group can help bring you greater safety and security when moving money and other critical items.
TAG Cash-In-Transit Vehicles Are Internationally Recognized
The Armored Group is not just a basic armored vehicle company. Our reputation spans the globe, and our products have a proven track record of reliability.
Features
Our armored cash-in-transit vehicles come with the following features:
Vertical panel protection
Certified bullet-resistant glass
Roof protection
Blast protection
Door overlap protection
Upgraded suspension system
Run-flat tires
All of our vehicles meet or exceed Federal Motor Vehicle Safety Standards (FMVSS), and we use only the highest quality parts and employ cutting-edge quality control processes. As a result, armored cash-in-transit trucks from TAG offer greater protection for valuables and personnel. However, our vehicles can also be upgraded and customized to fit our client's unique needs. We can manufacture, redesign, or modify cash-in-transit vehicles for any terrain or environment.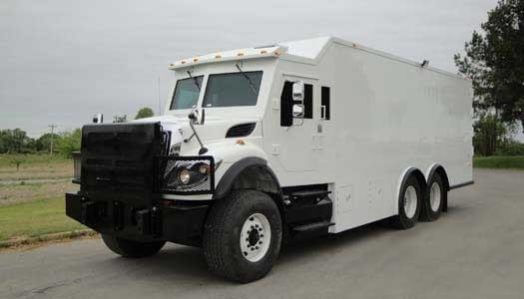 Ballistic Threats
At The Armored Group, we understand just how determined criminals can be. That's why we subject our cash-in-transit vehicles to intensive ballistics testing to verify that they are ready to operate, even in incredibly dangerous conditions. We also ensure that they meet and exceed the strictest safety requirements.
The Armored Group utilizes certified bullet-proof steel and glass on our cash-in-transit vehicles. You can view our certifications here.
Benefits of Using Our Cash-in-Transit Armored Vehicles
Armored cash-in-transit trucks from The Armored Group offer our clients, their personnel, and their valuables multiple benefits to help keep each of them safer and more secure when transporting goods in dangerous or potentially dangerous areas. These benefits include:
Quality
When it comes to transporting money and other valuables, our team understands how important it is for your personnel and valuables to arrive at their designated location safely. With criminals becoming more brazen, The Armored Group has worked hard to provide high-quality vehicle protection measures, including our bulletproof steel and glass. Our vehicles are put through extensive testing and quality control to ensure that they can withstand powerful and persistent threats.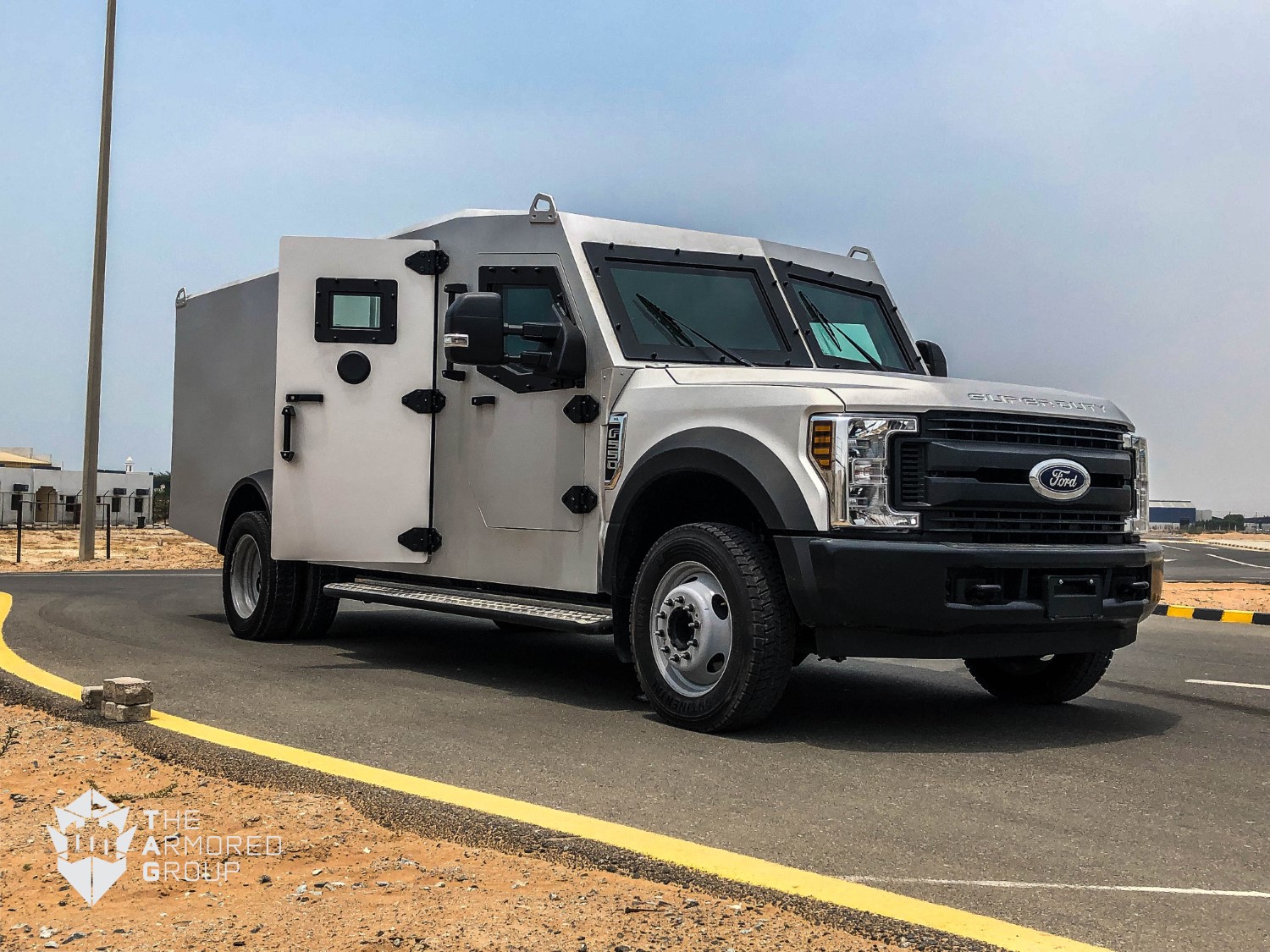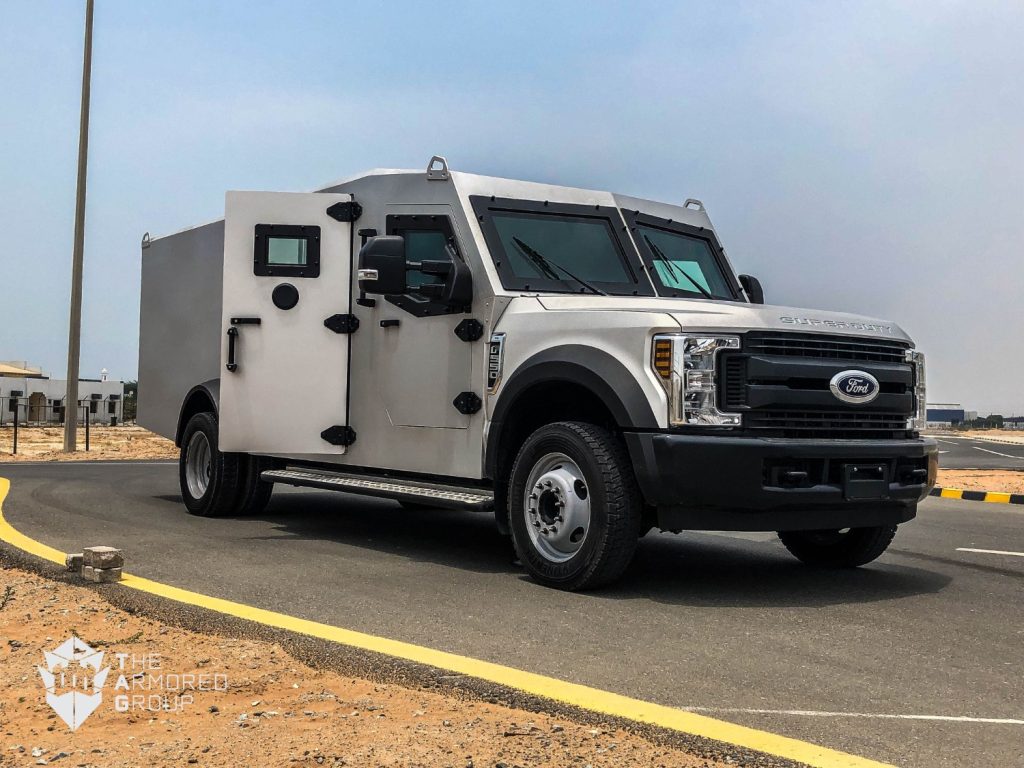 Customization
Our expertise in vehicle armor customization extends to many makes and models, including trucks for cash-in-transit. As a sign of our commitment to client satisfaction, we work closely to determine their precise requirements and specifications. If you're unclear or curious about which customizations to add to your armored cash-in-transit vehicle or vehicles, contact us to speak to one of our experts!
Dependability
Criminals, along with their weapons, techniques, and capabilities, are becoming increasingly sophisticated. This calls for increased vigilance on the part of the cash-in-transit operators. But it also requires vehicles that are capable of withstanding a variety of persistent and hazardous threats. With the renowned armor plating from The Armored Group, our cash-in-transit trucks can help protect both your cash and vehicle occupants by repelling gunfire, explosives threats, and even tire blowouts.
Contact Us for a Free Quote
The Armored Group's internationally acclaimed armored cash-in-transit vehicles are what you need if you run a business or financial institution that transports cash or other valuables from one location to another. Both your cargo and your staff are of the utmost importance to you and to us at The Armored Group. As a result, our team has made significant investments in cutting-edge technology and equipment, including our certified bulletproof glass and steel. Regardless of the size of your fleet, we can personalize each cash-in-transit truck to meet your requirements. Contact us today for a free armored car quote!