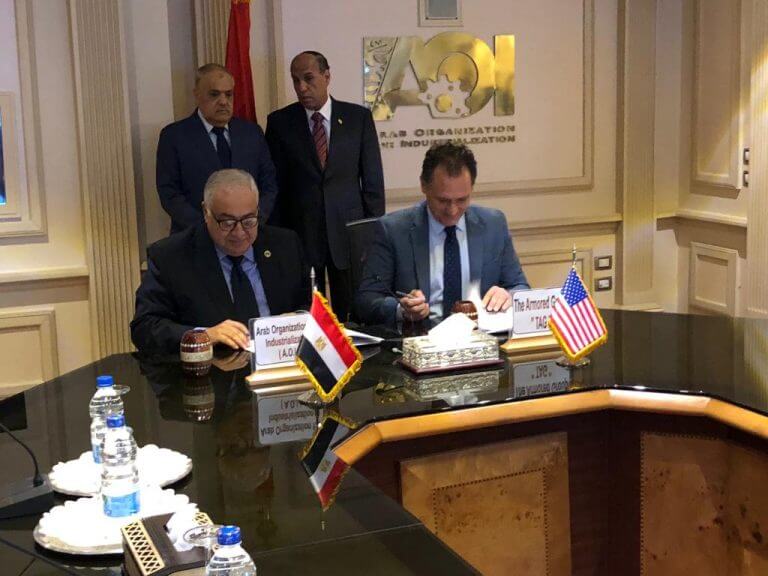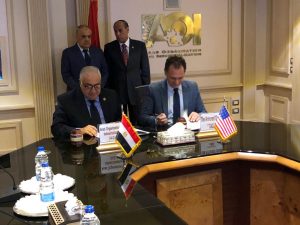 The Arab Organization for Industrialization (AOI) and The Armored Group, LLC (TAG) today announced a strategic alliance to enhance Middle East Security, combat terrorism, create jobs in both the U.S. and Egypt and improve the quality and safety of armored vehicle products used throughout the region. This is the first time in AOI's 43-year history, that they are considering having a partner in their defense sector.
The alliance is expected to further strengthen ties between the United States and Egypt, elevate manufacturing standards inside Egypt and cement TAG as a Global leader in the production of armored vehicles worldwide.
The alliance, the first of its kind for AOI, builds on each organization's strengths to accomplish the following:
Establish a strong manufacturing presence in Egypt for the production of armored and specialty vehicles to be used by civilian and defense forces inside Egypt and throughout the region.
Integrate industry leading technology into armored vehicles used by Egyptian Defense forces to combat terrorism and provide internal security.
Educate and train a workforce inside Egypt to build world-class vehicles for use in Egypt and throughout the Middle East region.
"Today's alliance highlights the importance of utilizing international expertise in the field of defense industries, creates real opportunities for investment in many modern industrial fields and is an important step on the road to industrialization, transfer and localization of technology inside Egypt," said Abdul Moneim, Chairman of AOI. "This partnership will further enhance cooperation between the United States and Egypt and expand the industrial marketplace in the Middle East region especially in light of the strength and robustness of relations between Egypt and the United States over the long-term."
Robert Pazderka, President and CEO of TAG, said, "This is an historic opportunity for TAG to build a significant manufacturing presence inside Egypt and throughout the Middle East region. This will enhance the internal security of the entire area, increase the native manufacturing base and promote world-class armored vehicle products for use by both civilian and military agencies throughout the Middle East. Egypt is a vibrant and pivotal market for the U.S. and this alliance allows TAG to promote American manufacturing products and standards that will serve both Egypt and the U.S. well for a long-time."
This alliance is due in part to President Trump's positive relationship with Egypt and discussions between Trump and Egyptian President Abdel-Fattah el-Sissi's during his first trip to the White House. According to an article from Reuters, both leaders look forward to closer ties that may "set the tone for a new era of warmer U.S.-Egyptian ties that could herald more military and political support for Cairo."
"This new level of cooperation between the U.S. and Egypt has made this alliance possible and we hope to see many more mutually-beneficial opportunities between our two countries come to fruition," said Pazderka.
For more information, please visit www.armoredcars.com.
Media inquiries or to request additional information, contact Mary Garrett at 602-432-2010.
Arab Organization for Industrialization is the largest state-owned organization in Africa. It manufactures mechanical and electronic products for military as well as civil applications. It offers missile systems, aircraft and related products, military vehicles, electronic equipment, weapon systems; and infrastructure plants, railway and metro equipment, capital equipment and spare parts, stadium equipment and fiberglass, household's appliances, vehicles and vehicle outfitting, and medical equipment. The company was founded in 1975 and is based in Cairo, Egypt.
The Armored Group, LLC has more than 25 years of experience in engineering, designing and manufacturing armored and specialty vehicles for use by governments, military agencies, law enforcement agencies, commercial banks, private businesses and individual citizens around the world. TAG offers a full-line of military and commercial armored and unarmored vehicles, including the Ballistic Armored Tactical Transport (BATT) APC vehicles, Personal Passenger Protection Vehicles (PPPV) and cash-in-transit vehicles (CIT). TAG provides the highest quality armored vehicles available in the industry and sets the standard for customization, reliability and protection, while delivering the best possible value for its customers. The company is based in Phoenix, Arizona. With Manufacturing facilities in Dearborn Hight's Michigan, Toronto Canada, Stadthagen Germany, Mumbai India, Ras Al Khaimah UAE.