Armored Toyota Hilux
Vehicle Details

Learn About Armor Levels
At The Armored Group, we are proud to offer our clients our exceptional armored Toyota Hilux, which is one of many armored pickup trucks we have to offer. This bulletproof Toyota Hilux can help our clients in nearly any part of the world transport themselves and their cargo more safely and more securely. It is also inconspicuously armored, making it a sleek and secretive addition to your garage or fleet. Contact us today to place your order or receive a quote!
Details for the Armored Toyota Hilux
The Toyota Hilux is a workhorse built for many of the toughest jobs, and it is one of the most popular pickup trucks in our inventory. It will not take you long to discover why this armored Toyota pickup truck and all of our secure Toyota vehicles are considered to be among the safest and most reliable in the industry.
At The Armored Group, our armored Toyota Hilux is the ultimate tool for both rural and urban defense when it comes to crime and other threats. The design of the Toyota Hilux consists of 122 parts. These parts essentially form an armored capsule in the vehicle that overlaps all gaps between the main body of the vehicle and doors to prevent projectiles or splinters from entering the passenger compartment. This method of installation, performed by our armoring experts, offers the highest possible protection to the vehicle occupants, especially against the effects of gunfire as well as some types of bomb blasts from either side of the vehicle.
Why Choose The Armored Group for an Armored Toyota Pickup Truck?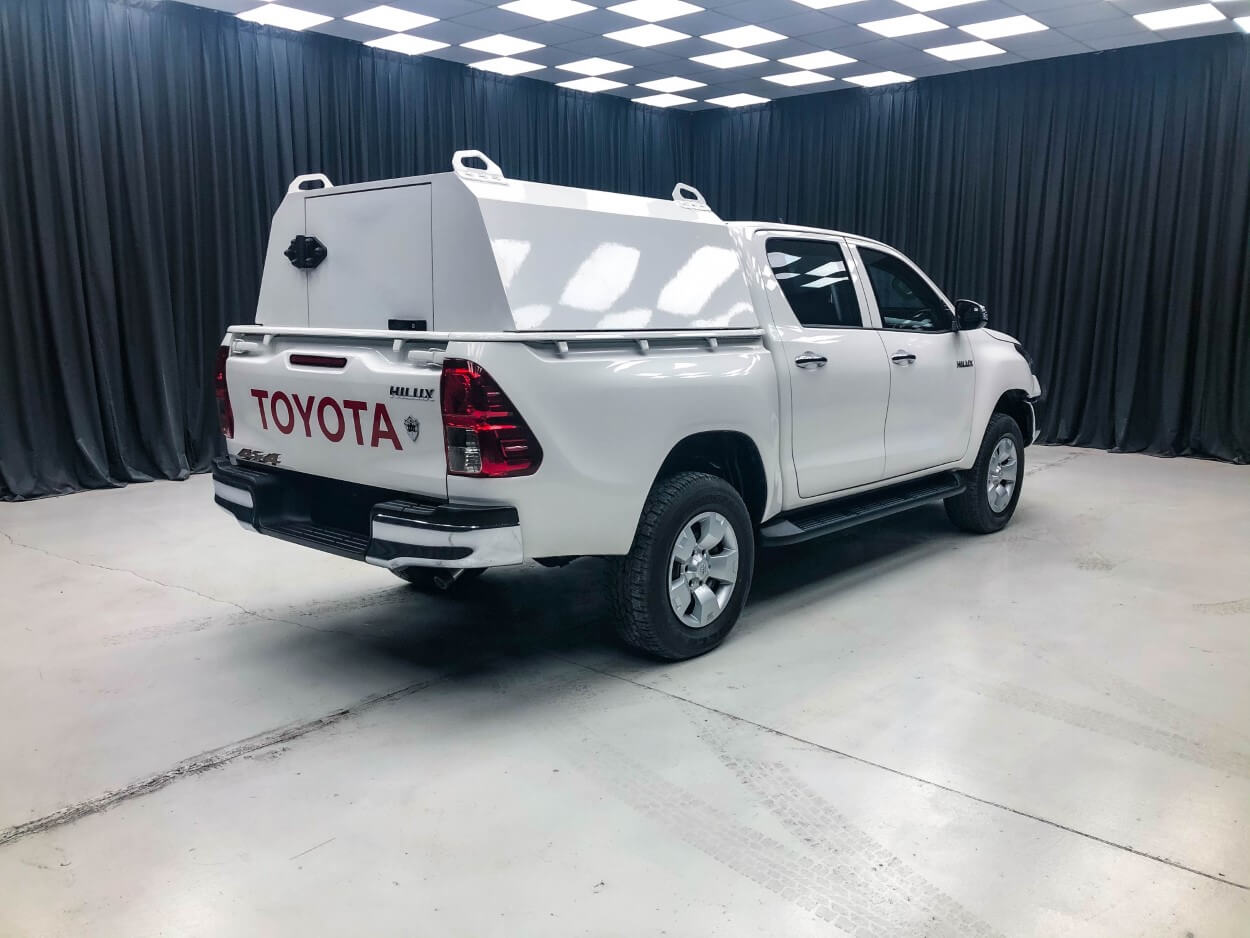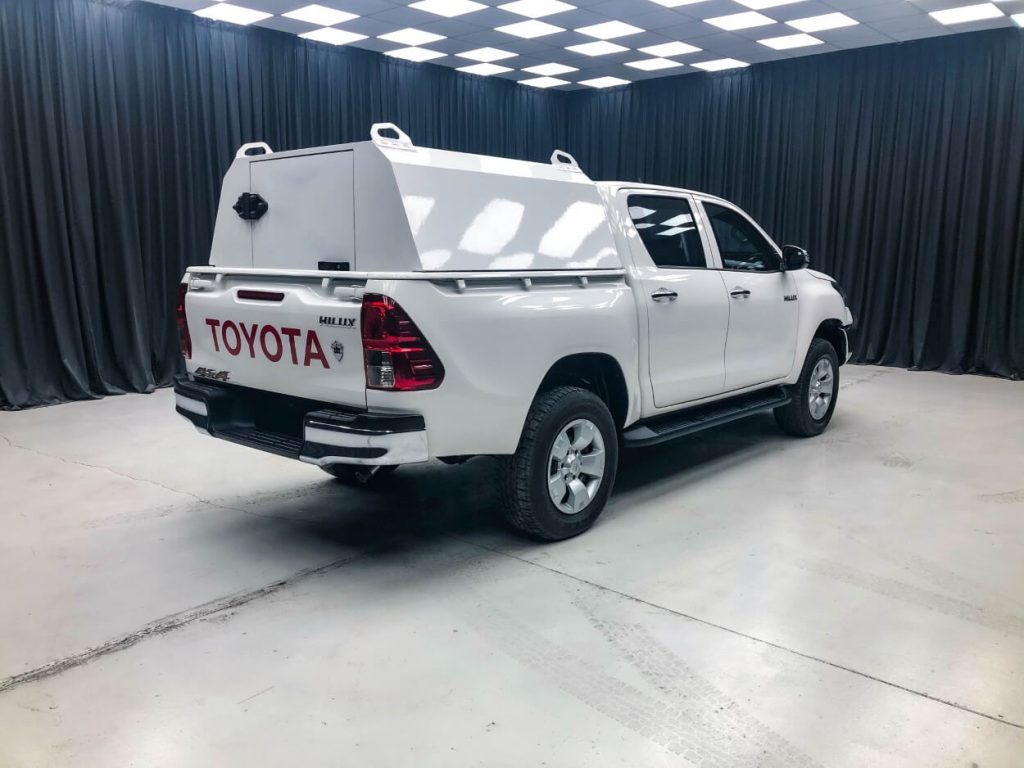 The Armored Group is home to a variety of armored trucks and SUVs. No other vehicle reinforcing company offers the state-of-the-art engineering, reliability, and custom design you can find by choosing us. So make The Armored Group your home for security vehicles that set a high standard for safety and performance in our industry. In doing so, you join those who have found the security and reliability of our armored vehicles as second to none, including our armored Toyota Hilux.
Our clients conduct their business in some of the most hostile places around the world. The dangers are very real for them, and the need for bulletproof vehicles that offer maximum safety at every turn is non-negotiable, which is why our team here at The Armored Group offers just that to our clients: high-quality armored vehicles. For more than two decades, every aspect of the customization work we have done and continue to do is conducted with the goal of addressing your specific security needs – whether for personal or passenger protection, cash-in-transit, or law enforcement and military purposes.
Armored Toyota Hilux: Benefits and Tactical Advantages
At The Armored Group, our team is supremely experienced in building highly capable armored Toyota Hilux vehicles. There are a variety of armoring options for the Armored Toyota Hilux. No matter your armoring requirements, The Armored Group provides all levels of armor protection, including CEN, NSA, NIJ, UL, and VPAM. Don't trust the safety of your personnel or your belongings to anyone else.
The protection package for the Toyota Hilux has many available features, offering you several benefits as well as tactical advantages. Some of these remarkable features and benefits include:
Upgraded suspension to allow for optimal drivability
Enhanced brakes to help account for the added weight of our bulletproof armor
Run-flat tires
Bulletproof armor
Bulletproof glass
At the Armored Group, we customize vehicles like the Toyota Hilux not only to make them armored but to make them as safe as possible for our clients. To do this, we not only equip them with certified bulletproof glass and steel, but our armoring experts also upgrade the suspension and braking systems. In doing so, we help ensure your vehicle is not just heavily armored but also agile.
Our armoring experts also equip our armored Toyota Hilux pickup trucks with run-flat tires. This allows you to continue to drive on punctured tires for up to 50 miles, which helps ensure that in the event of an attack or threat that you can leave the area and get to a much safer one.
For more information, check out the armoring level tabs below to learn more about our armor and each armoring level.
Contact Us for More Information on Our Armored Toyota Hilux For Sale
The armored Toyota Hilux is available for ordering from the experts at The Armored Group. When you need an armored car, it must meet your threat level. At The Armored Group, our team will work with you to determine the best armored level for your situation and outfit your armored car accordingly, including our Toyota Hilux pickup truck. Please contact our experts today to learn more about our Armored Toyota Hilux and all the security options we have available for it!
B6/NIJ III RIFLE ROUND PROTECTION LEVEL BASE ARMOR SPECIFICATIONS TRUCK/SEDANS/SUV
Vertical Panel Protection
Certified Bullet Resistant Glass
Roof Protection
Blast Protected Floor
Battery & CPU Protection
Reinforced or TAG made Door Hinges
Run Flat Tire Systems
Door Overlap Protection
Professional Interior Finishing
Upgraded Suspension Systems
Reinforced Braking
Partial Operational Driver Window
B4/NIJ IIIA HANDGUN PROTECTION LEVEL BASE ARMOR SPECIFICATIONS TRUCK/SEDANS/SUV
Vertical Panel Protection Except Firewall
Roof Protection
Battery & CPU Protection
Certified Bullet Resistant Glass
Door Overlap Protection
Professional Interior Finishing
Vertical Panel Protection
Certified Bullet Resistant Glass
Roof Protection
Blast Protected Floor
Battery & CPU Protection
Reinforced or TAG made Door Hinges
Run Flat Tire Systems
Door Overlap Protection
Professional Interior Finishing
Upgraded Suspension Systems
Reinforced Braking
Partial Operational Driver Window
Vertical Panel Protection Except Firewall
Roof Protection
Battery & CPU Protection
Certified Bullet Resistant Glass
Door Overlap Protection
Professional Interior Finishing
Light Weight Armor Packages
Executive Interior Packages
Law Enforcement Packages
Performance Packages
Color Back Up Camera
Front Mounted Camera
DVR System with Cameras and Color Monitor
Siren with PA System
Emergency Lights Front Grill
Emergency Lights Rear of Vehicle
Wig Wags Front and Back
LED Light Bar
Scene Lights
Self Sealing Fuel Tank
Fire Suppression Systems
High Intensity Driving Lights
Intersection Lights
Spot Lights Remote Control
Power Inverter
Hidden Reinforced Front Bumper
Hidden Reinforced Rear Bumper
Ram/Push Bumper Hidden
Radiator Protection
Radiator Protection Exterior
Shore Power (includes marine grade cord)
Kussmaul Battery Charger with Auto Eject
Winch
Winch Upgrade Package
Heated Windshield Upgrade
Operational Door Windows
Run Flats
Off Road Tire Upgrade
Spare Tire/Rim/Run Flat
Ballistic Skip Round Shields
Heavty Duty Running Boards
Intercom System
Radio Prep Package
Work Desk/Command Station
Parabolic Mic System
Emergency/Escape Hatch
Rotating Roof Hatch
Flank armor behind front fenders
Shocking Door Handles
Nail/Tack Thrower
Smoke Screen
Gun Ports – Per Gun Port
Battering Ram Package
Gas Needle Ram Pkg
Ram Camera System with Color Monitor
CBRNE Detection
SCBA Refill Tanks and Hook Ups
Thermal & Day/Night Camera with Color Monitor
Night Vision Camera
LRAD Systems
Recon Throwbots
Rescue Medic/Trauma Pac with Backboard
Fire Retardant Paint
Rear Tow Hitch with Brake Control
Spec Rest Sniper System
Weapon Mounts
Weapon Racks
Rear Seats facing rearward in Rear Officers Area
Blast Seats
EOD Package
Medic Package
LE Package
NBC Air Filtration System for
Riot Protection Package for Glass & Emergency Lights
Cooling Fans Cabin Mounted
Tow Straps
Mast
Delia Raptor Tool
Delia Rescue Hawk
Delia Life Spike
Skid Plates
Decal Installation
CTIS System
Tire Change Package: Jack, Tire Tool, Tire Chocks)
Spare Air Self Rescue Tanks
Rescue Torch System
Roof Rack
Safe in vehicle
Refrigerated cooler box
Immobilizer System
Dead Bolts on Doors
Locking Gas Cap
Entertainment Systems
24 Volt Conversion System
Snorkel
Dual Battery