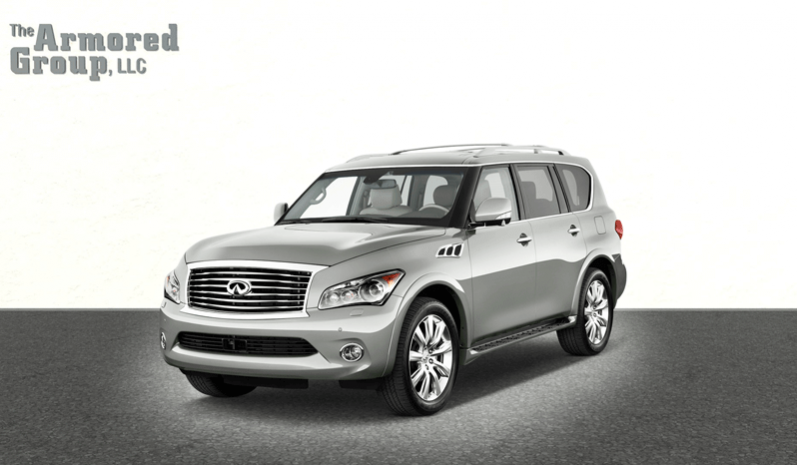 Armored Infiniti QX80
Vehicle Details

Learn About Armor Levels
The Armored Group, LLC, offers a fully armored Infiniti QX80 (formerly named the QX56) for those looking for a mid-size luxury sports utility vehicle (SUV). The Infiniti QX80's 5.6L V8 engine delivers 400 horsepower for impressive torque even during off-road expeditions. The spacious seven-seat interior has plenty of room for families, groups of executives or diplomats, celebrities, and additional cargo. This SUV remains one of the top armored vehicles at The Armored Group, LLC.
Specialty and Customizations
Our armored luxury vehicles are at the top of their market, customized according to client specifications and outfitted with the most advanced ballistic armoring technologies. Tell us what you need to stay safe and mobile, and we will give you the ideal Infiniti QX80 to match. Features we can add to this luxury SUV include anything to save lives or make you more comfortable, such as emergency oxygen tanks and a fire suppression system.
Why Choose Infiniti QX80?
We are known around the globe as a top provider of armored Infiniti QX80s because we listen carefully to our clients' needs and respond with advanced custom solutions. Our design and engineering teams have years of experience armoring vehicles for even the most volatile environments, keeping occupants safe and comfortable at all times.
The sophisticated interior of this SUV has leather-appointed seats, sharp contrasting silver stitching/piping, matte finish ash wood accents, and a silky Ultrasuede® headliner. Occupants enjoy a warm and welcoming space that prioritizes elegance, high-quality materials, and in-cabin comfort. Noise-insulating glass keeps the interior quiet and serene, even with crowds of people outside – a great feature for celebrities.
The Infiniti QX80 is a top choice for an armored vehicle if you want to ride in maximum style with discrete protection from rifle fire and blasts. If you are ready to start designing an armored Infiniti QX80 or other mid-size SUV, contact us today. We are happy to discuss your needs and give you a free price quote.