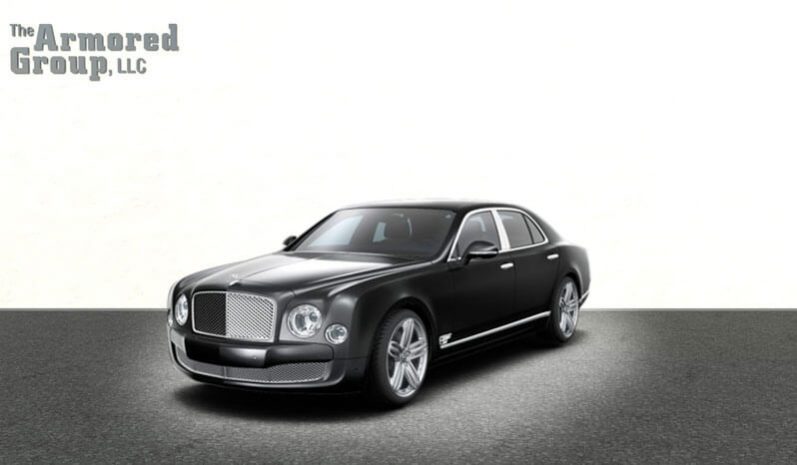 Armored Bentley Mulsanne Series
Vehicle Details

Learn About Armor Levels
The Bentley Mulsanne Series vehicles combine the most advanced technologies with timeless design qualities. These luxurious vehicles are prime candidates for armoring at The Armored Group, LLC, with immensely comfortable interiors and three different chassis models to choose from – the Mulsanne, the Mulsanne Speed, and the Mulsanne Extended Wheelbase. Learning the difference among the three available models will help you know which is best to armor for your needs as a private individual, celebrity, diplomat, politician, or executive.
Bentley Mulsanne Series Features
At The Armored Group, LLC, we believe your luxury armored vehicle should be a reflection of you. The impressive Bentley Mulsanne Series may have the ideal vehicle for your specific needs. Here are some of each model's top features:
This vehicle is the pinnacle of Bentley design and engineering skills. It has an unmatched combination of power and finesse, with a 6.75L twin-turbocharged V8 engine and beautiful attention to detail. It makes an excellent luxury armored car for a variety of needs.
Mulsanne Speed. Enjoy a combination of impeccable luxury and limitless power found only in the Mulsanne Series. Serious performance capabilities partner with flawless design, all geared toward speed. This vehicle boasts a re-engineered 6.75L twin-turbocharged V8 engine.
Mulsanne Extended Wheelbase. This vehicle offers an extra 250 mm of legroom for rear-seat passengers as the most spacious in the Mulsanne Series. The glass sunroof, state-of-the-art infotainment system, and airline-style reclining seats are just a few of the special features in this re-imagined Mulsanne.
Any vehicle in the Bentley Mulsanne Series can be an elegant and discerning armored car with help from the experts at The Armored Group, LLC. We use nothing but the latest technologies and manufacturing methods to turn favorite cars into armored protective vehicles. This series is just one of the many armored series we offer; we ship fleets and individual vehicles worldwide. Contact us today to start your order.