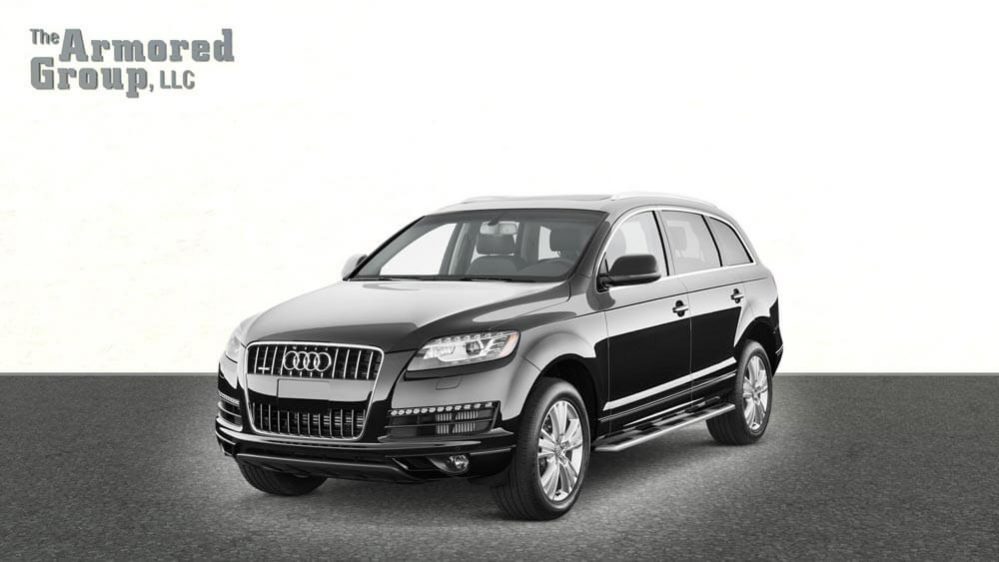 Armored Audi Q7
Vehicle Details

Learn About Armor Levels
The Armored Group, LLC, put more than 20 years of experience to good use when designing the armored aluminum-body Audi Q7, paying attention to every detail of these luxury sports utility vehicles (SUVs). This discrete armored SUV sets the standard for the safety and comfort an armored vehicle should provide to executives, diplomats, politicians, celebrities, and private individuals.
Vehicle Description
This vehicle is a luxury crossover SUV that is versatile, spacious, and packed with innovative technologies for optimal comfort. With Audi's legendary, best-in-class Quattro all-wheel drive and electronic stability program (ESP), this vehicle is a top pick for diplomats, politicians and executives worldwide. The armored Audi Q7 at The Armored Group, LLC, has exceptional comfort and style while still offering first-rate protection from gunfire and small blasts.
The Audi Q7 is the height of luxury, with a lavish interior that offers both versatility and engineering genius. Enjoy an ergonomic space where everything you need for comfort, connectivity, and class are easily accessible. This vehicle comes with the next-generation virtual cockpit display, as well as a gear selector that provides a fixed point for multimedia interface (MMI) control. This lends improved MMI display placement. All technical components of this vehicle work seamlessly together to give the driver and passengers an outstanding experience.
Enjoy a panoramic sunroof with high-tech tilt and sliding features to give a beautiful, unobstructed view to every passenger. A power-operated sunshade is included. Ambient interior lighting packages are available, as is four-zone automatic climate control. This SUV has more than a touch of opulence that is ideal for any luxury armored car.
Why Choose Audi Q7?
The Audi Q7's nimble handling, powerful supercharged engine, and advanced driver assistance technologies, combined with The Armored Group, LLC's, masterful armoring, produces one of the safest and most comfortable armored personnel carriers on the market. You will not find this luxurious armored vehicle easily – we are one of the few manufacturers with the ability to provide an armored aluminum body for this vehicle. Design your armored Audi Q7 with us. Contact us today.
Vertical Panel Protection
Certified Bullet Resistant Glass
Roof Protection
Blast Protected Floor
Battery & CPU Protection
Reinforced or TAG made Door Hinges
Run Flat Tire Systems
Door Overlap Protection
Professional Interior Finishing
Upgraded Suspension Systems
Reinforced Braking
Partial Operational Driver Window
Vertical Panel Protection Except Firewall
Roof Protection
Battery & CPU Protection
Certified Bullet Resistant Glass
Door Overlap Protection
Professional Interior Finishing
Light Weight Armor Packages
Executive Interior Packages
Law Enforcement Packages
Performance Packages
Color Back Up Camera
Front Mounted Camera
DVR System with Cameras and Color Monitor
Siren with PA System
Emergency Lights Front Grill
Emergency Lights Rear of Vehicle
Wig Wags Front and Back
LED Light Bar
Scene Lights
Self Sealing Fuel Tank
Fire Suppression Systems
High Intensity Driving Lights
Intersection Lights
Spot Lights Remote Control
Power Inverter
Hidden Reinforced Front Bumper
Hidden Reinforced Rear Bumper
Ram/Push Bumper Hidden
Radiator Protection
Radiator Protection Exterior
Shore Power (includes marine grade cord)
Kussmaul Battery Charger with Auto Eject
Winch
Winch Upgrade Package
Heated Windshield Upgrade
Operational Door Windows
Run Flats
Off Road Tire Upgrade
Spare Tire/Rim/Run Flat
Ballistic Skip Round Shields
Heavty Duty Running Boards
Intercom System
Radio Prep Package
Work Desk/Command Station
Parabolic Mic System
Emergency/Escape Hatch
Rotating Roof Hatch
Flank armor behind front fenders
Shocking Door Handles
Nail/Tack Thrower
Smoke Screen
Gun Ports – Per Gun Port
Battering Ram Package
Gas Needle Ram Pkg
Ram Camera System with Color Monitor
CBRNE Detection
SCBA Refill Tanks and Hook Ups
Thermal & Day/Night Camera with Color Monitor
Night Vision Camera
LRAD Systems
Recon Throwbots
Rescue Medic/Trauma Pac with Backboard
Fire Retardant Paint
Rear Tow Hitch with Brake Control
Spec Rest Sniper System
Weapon Mounts
Weapon Racks
Rear Seats facing rearward in Rear Officers Area
Blast Seats
EOD Package
Medic Package
LE Package
NBC Air Filtration System for
Riot Protection Package for Glass & Emergency Lights
Cooling Fans Cabin Mounted
Tow Straps
Mast
Delia Raptor Tool
Delia Rescue Hawk
Delia Life Spike
Skid Plates
Decal Installation
CTIS System
Tire Change Package: Jack, Tire Tool, Tire Chocks)
Spare Air Self Rescue Tanks
Rescue Torch System
Roof Rack
Safe in vehicle
Refrigerated cooler box
Immobilizer System
Dead Bolts on Doors
Locking Gas Cap
Entertainment Systems
24 Volt Conversion System
Snorkel
Dual Battery