Development plan for manufacturing armored vehicles expected to bring more than 100 jobs to Shelby, North Carolina area
Phoenix, AZ – The Armored Group, LLC (TAG), a leader in engineering, manufacturing and customizing armored vehicles, today announced it has completed the acquisition of IF Armor International, LLC and its facility in Shelby, North Carolina. The strategic move expands TAG's manufacturing capabilities to meet unprecedented demand from global partners and future customers.
"We continue to see requests for best-in-class armored vehicles rising across all markets and establishing this footprint in North Carolina is vital to our deliverables," said Beau Gailey, General Manager and Chief Operating Officer of TAG. "This will no doubt help accelerate our domestic and international growth and we look forward to becoming part of the Shelby community."
With deep roots in Shelby and the greater North and South Carolina surrounding areas, thousands of vehicles have been produced out of the Carolinas since the Iraq War to aid and protect soldiers. The main facility sits on 110 secured acres with two independently alarmed and surveilled buildings, a live-fire testing range and a vehicle mobility test field. TAG Shelby will have a significant daily manufacturing capacity and this expansion will bring more than 100 jobs to the Shelby, NC. TAG's additional staffing to the current personnel in Shelby will support $240 million in current orders for armored vehicles over several multiyear contracts.
Facility information:
TAG Shelby campus covers 110 acres
227,000 square feet of manufacturing space in Shelby, NC
State-of-the-art manufacturing and fabrication equipment, paint facility, live-fire shooting range and vehicle mobility testing track
40-ton brake press and a 246-foot laser cutter
Separate 70,0000 square-foot paint and coatings facility in Forest, NC
TAG has produced thousands of specialty vehicles for U.S. organizations including the United States Secret Service, White House Communications Agency (WHCA), SOCOM, U.S. Army, U.S. Air Force, Department of State, FBI, DHS, and local law enforcement agencies. TAG also has produced thousands of vehicles internationally to organizations including the Armed Forces of Ukraine, United Nations, Iraqi Ministry of Defence, European Union, and Bangladesh National Police to name a few.
If you are interested in joining TAG's current team of highly skilled personnel who are bringing this proficient capability back to Shelby, NC visit TAG's LinkedIn and Indeed.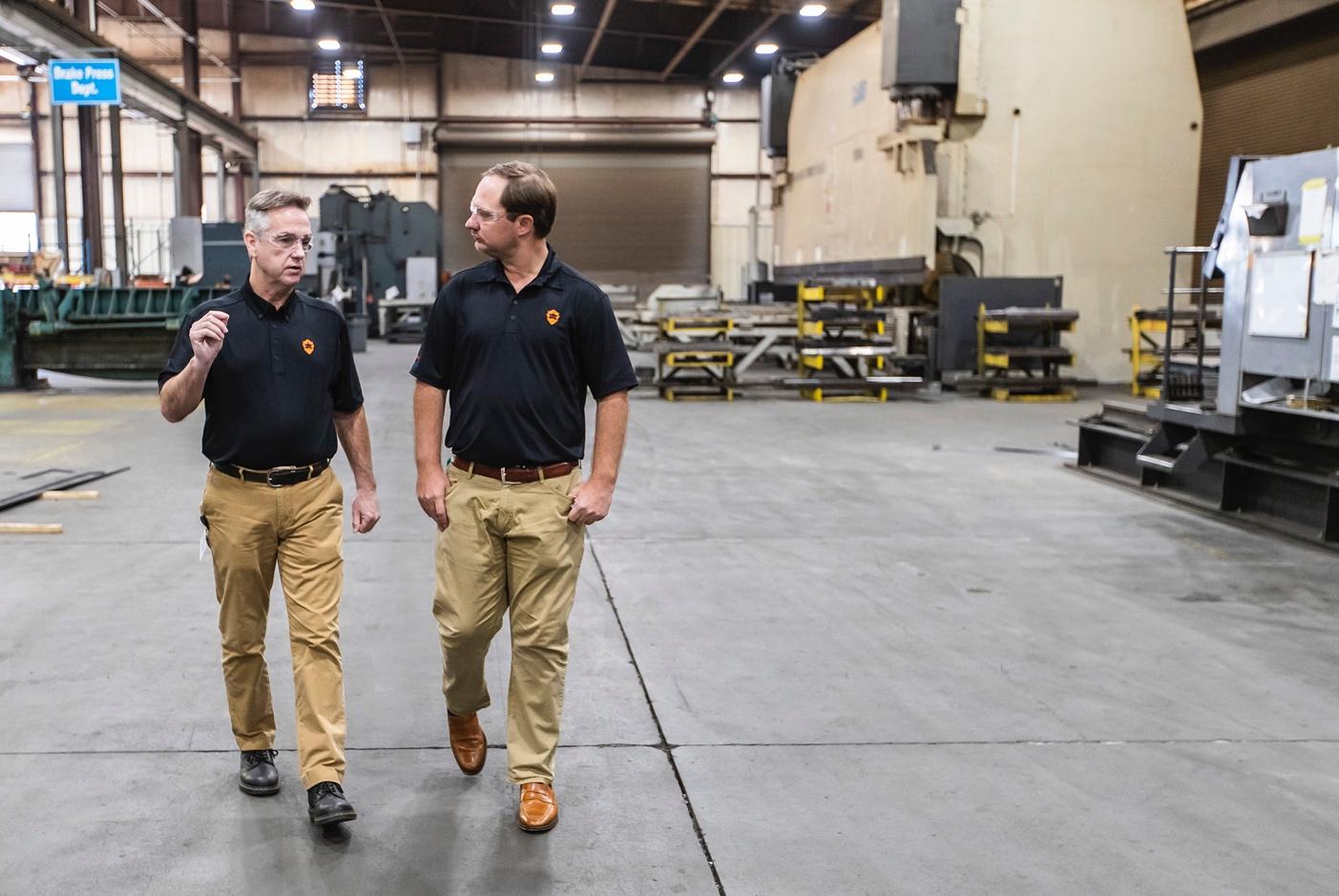 (Pictured left to right: Scotty Hester, General Manager of TAG Shelby & Beau Gailey, General Manager and Chief Operating Officer of TAG)
Contact:
Bo Wood, Ridge Media
864-421-2421
The Armored Group, LLC Information:
Founded in 1992, The Armored Group, LLC (TAG) has nearly 30 years of experience engineering, manufacturing, and customizing armored vehicles for use by government, military agencies, law enforcement, private businesses, and individual citizens around the world. Their armored vehicles are ideal for any mission in any environment, over any terrain.
TAG's early years focused exclusively on building armored Cash-in-Transit (CIT) vehicles with the important goal of providing each customer the highest level of security and protection for human life and cargo. Realizing the need to provide quality built armored vehicles in other markets, TAG expanded its product line to include armored solutions for three other distinct markets, law enforcement with SWAT police and tactical vehicles, high-end armored OEM passenger vehicles and SUVs, and armored military vehicles.