Armored vehicles from The Armored Group (TAG) are ideal for numerous applications worldwide, including cash-in-transit. For many, armored vehicles are most familiar when in the form of cash-in-transit (CIT) trucks. These durable and highly protected vehicles are used for transporting money and other valuable goods, such as important documents and bullion, from one location to another.
For this sort of transportation situation, The Armored Group manufactures and sells superior armored CIT vehicles with plenty of options and features. Our CIT vehicles can help businesses, governments, and more transport valuables more securely anywhere in the world.
What are Cash-in-Transit Vehicles?
Cash-in-transit trucks are among the most common forms of armored vehicles found throughout the world. Typically, these trucks can be seen outside banks, federal buildings, and businesses as they move money and other valuables from one secure place to another. As a result, CIT trucks can be a target for criminals looking to steal goods while they are on the move. Fortunately, most CIT trucks provide drivers, personnel, and valuables with several safety features, including bullet proof armoring and windows.
Features of CIT Vehicles from The Armored Group
At The Armored Group, we manufacture and sell various high-quality armored vehicles, including cash-in-transit vehicles. Our durable CIT vehicles are designed primarily with security in mind; however, they also offer several other benefits, such as run-flat tires and upgraded suspension systems.
When confronted, our cash-in-transit vehicles possess numerous safety features and advantages to help keep personnel and valuables safer. The armoring features on our CIT vehicles typically include:
Vertical panel protection
Certified bulletproof glass and armor
Blast protection
Roof protection
Door overlap protection
Upgraded suspension systems
Run-flat tires
The multiple safety and security features equipped to our CIT vehicles can help protect those inside from a potentially serious or deadly confrontation. These features can also help them evade more safely and securely with whatever valuables are inside. However, these are not the only features. Our armored cash-in-transit vehicles can be customized to include additional security features as well.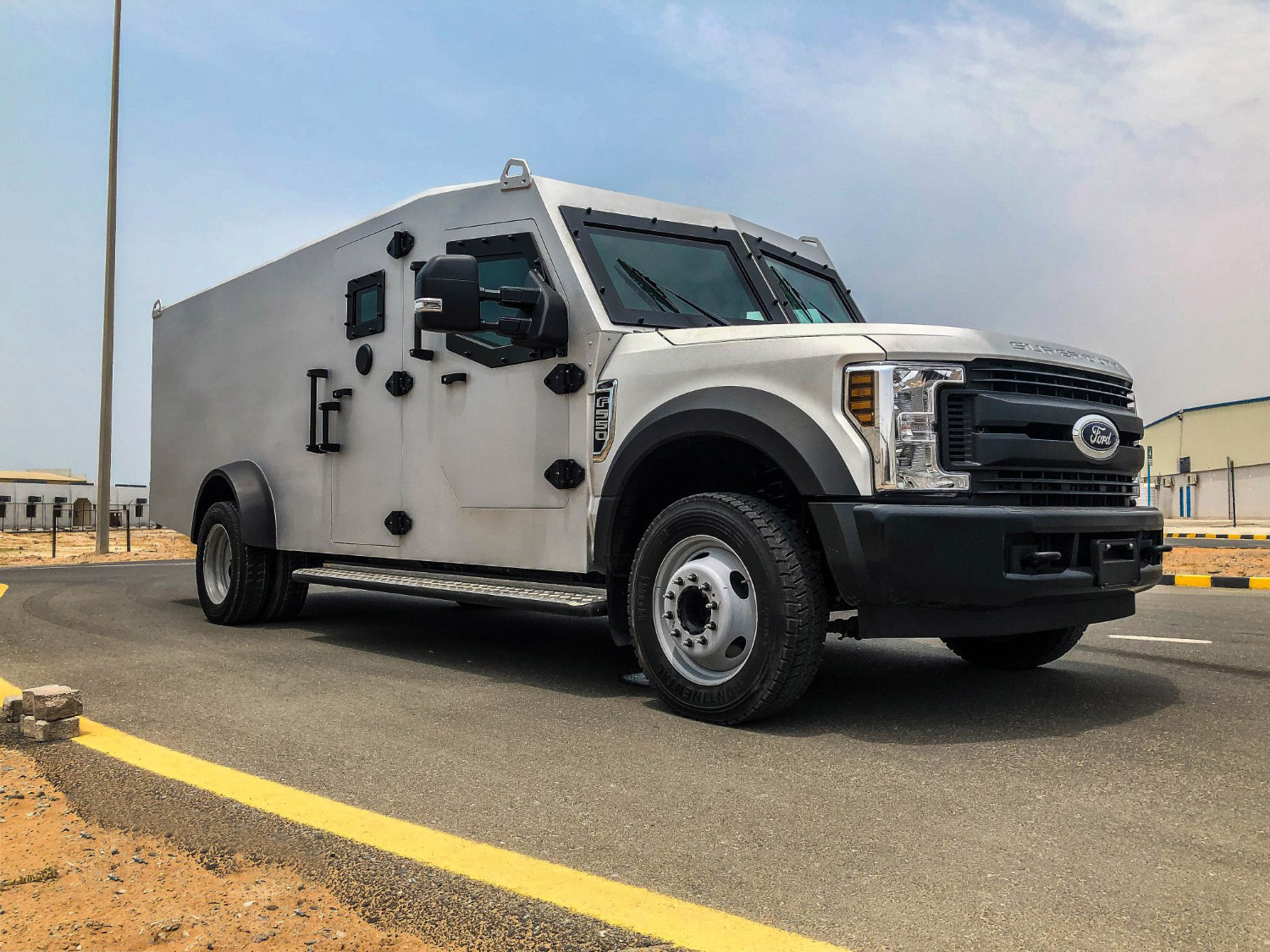 Categories of CIT Vehicles
For armored cash-in-transit vehicles, TAG offers our customers around the world several options and categories. Our CIT vehicle categories are determined by their weight after armoring, available weight for payloads, and other similar categories concerning cubic volume and space for personnel.
Our CIT categories include:
Light Duty: carries payloads up to 500 lbs.
Medium Duty: ideal for payloads from 1,700 to 3,000 lbs.
Heavy Duty: ideal for payloads from 5,000 to 7,000 lbs.
Super Heavy Duty: ideal for payloads from 8,000 to 9,000 lbs.
The cash-in-transit vehicle any client needs is primarily dependent on what they plan on transporting. For larger, heavier payloads, our heavy duty and super heavy duty CIT vehicles are a more optimal choice. However, for smaller, lighter payloads, such as documents, our light or medium duty CIT vehicles are usually better suited for the task. For many businesses and organizations with changing needs and requirements for transporting goods, it is often wise to invest in armored CIT vehicles from all or multiple payload categories.
Popular CIT Models
At TAG, we provide our customers with multiple options for cash-in-transit vehicles. This not only includes safety features and payload categories, but it also includes different models of CIT trucks. Our armored CIT vehicles are available from a number of car brands. As a result, we offer various models to help fit different needs. Some options are smaller and more discreet while others are larger and more commanding.
Our most popular CIT vehicle models include:
Ford – Transit Connect, Transit 250/350 Series, F350, F550, & F650
Freightliner Trucks
GM/Chevrolet – Savana/Express 2500/3500
Hino Trucks
International Trucks
Mercedes-Benz – Metris & Sprinter 2500/3500
RAM – ProMaster 2500/3500
Toyota – Land Cruiser 79 & Hiace
Volkswagen – Crafter & Transporter
With our array of CIT vehicle models, we offer multiple options to help fit our customers' armored transportation needs.
Applications for CIT Trucks
Cash-in-transit vehicles from TAG are ideal for a number of uses worldwide. Industries, including banks, retail, small businesses, law enforcement agencies, and militaries, can benefit from using CIT vehicles. As a result, these businesses, groups, and organizations can more safely and securely transport money and other valuables through dangerous or potentially dangerous areas and territories.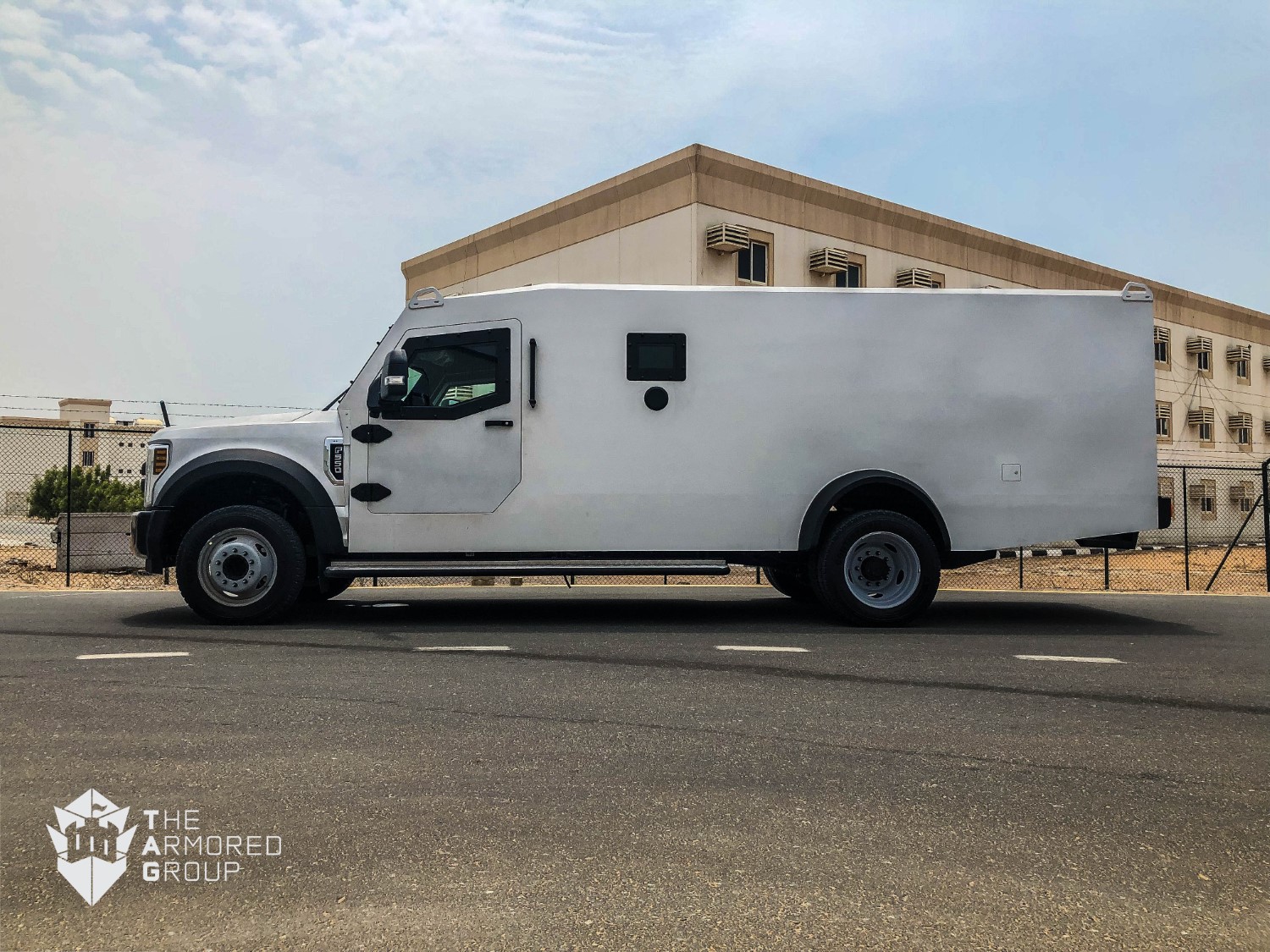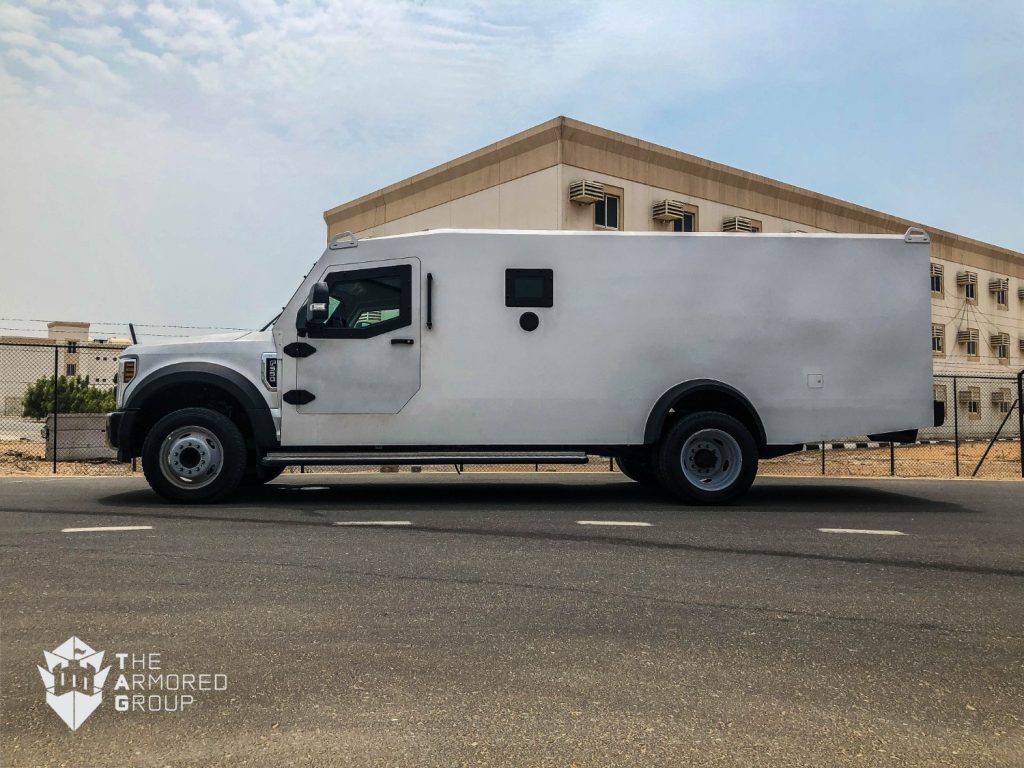 Why Choose The Armored Group
The Armored Group began manufacturing armored vehicles back in 1992. Since then, we have amassed the knowledge, experience, and certifications that make us a leading armored vehicle supplier for countries around the globe. Our original focus when forming TAG was on cash-in-transit vehicles and providing our clients with higher levels of security. To this day, we proudly remain a producer and seller of high-quality CIT trucks that help keep personnel and valuables worldwide safer during transport.
Contact Us for More Information
Armored cash-in-transit vehicles from The Armored Group help keep money and other valuables safer and more secure during transport. Our durable CIT vehicles are available in several models and sizes with numerous safety options to help fit your transportation needs. By working with us, your business, group, or organization can more safely move your valuables and help protect the lives of your personnel. Contact us today for more information on our armored cash-in-transit vehicles or to get a quote!