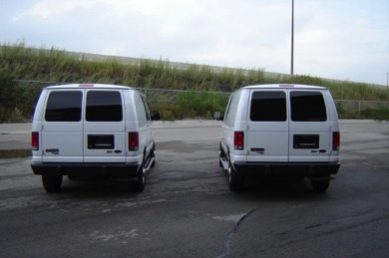 Ford E250 CIT
Vehicle Details

Learn About Armor Levels
KMs/25,000 miles or less.
Standard Security Features and Accessories:
All vehicles' OEM manuals/written information provided by the manufacturer is included.
B4 Armor (firewall and floor not armored).
Curved OEM front windshield with ballistic flat glass is modular frame and driver/passenger flat door glass in
modular frame – Included.
Full carpet upholstery in driver's compartment – Included.
Armored roof – Included.
(3) Electrical, driver operated, push button or manual, powered locks on: passenger door curbside cargo door
and rear cargo door - Included.
(4) High Security Lock Cylinders on all exterior doors with 2x2 key arrangement – Included.
Bulkhead door with (1) ballistic glass, talk screen, and manual lock/key - Included.
(8) Heavy Duty grab handles on driver/passenger doors at door overlaps, and messenger compartment door
openings for easy ingress/digress – Included.
(2) Exterior spotter mirrors at curb side and rear cargo/messenger doors - Included.
(1) Fire extinguisher – mounted in the driver's compartment - Included.
(1) First aid kit – mounted in the driver's compartment - Included.
(3) Switched dome lights: (2) in cargo compartment, (1) in driver's compartment - Included.
(2) ATM Cassette shelving in liability compartment floor over wheel wells – Included.
Additional accessories to be specified by client.
The Armored Group (TAG) is available and encourages our consultation and ongoing relationship to discuss
any additional optional equipment required or adjustment to interior component position and layout to best
meet the Offeror's operational needs.
Vehicle Layout Beyond Standard TAG Configuration:
Client to advise on vehicle layout that varies from standard TAG CIT configuration.
Ballistic messenger view glass at street side messenger compartment, curbside and rear cargo doors.